ESEA Refrag is a suite of custom in-game Counter-Strike Global Offensive mods including Restrat, Prefire, and NADR that assists players of all skill levels improve, prepare, and analyze your game on a whole new level in a fraction of the time. These new revolutionary tools are now accessible to ESEA Insiders.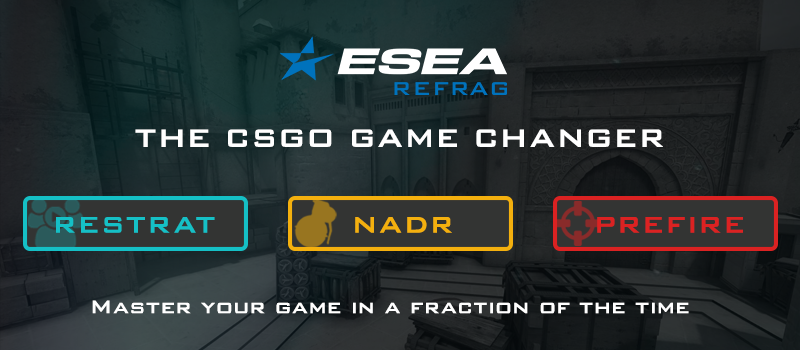 To learn more about what ESEA Refrag has to offer, we broke it down in three sections (RESTRAT / NADR / PREFIRE) below, and we also created video tutorials for each tool with the help of Rushly's beautiful voice:
Additionally, below are detailed instructions and useful commands for each of the mods:

RESTRAT offers an easy to use interface when reviewing CS:GO demos unlike the original default demo viewer. RESTRAT allows you to do three things:

Watch Mode now means you can watch a demo both alone or with other players in real time inside of a game server, something never before possible. The spectator tools make it quick and easy to navigate to specific moments in a round you wish to review. You can even leave notes for your teammates or friends to let them know at what point in a round a mistake was made with a smoke execute, or if they did something really well.
Versus Mode enables you and your teammates to enter a demo as a player. This is a window to allowing yourself to play against any team in the world and practice site holds, executes and more. You could even practice against your own team and yourself using this feature.
Record Mode means that players can focus on their in-game tactics by recording their own strategy, dry runs or executes and then play it back for viewing, or play against it yourself, leaving no gaps in you and your teams gameplay.

With this innovative new tool, NADR assists in testing and improving your utility game like never seen before. Taking your smoke executes, pop-flashes and grenade knowledge to unprecedented heights with NADR:

Trajectory Finder: Want to smoke B site from T-Spawn on Mirage? The Trajectory Finder allows you to learn multiple new grenade or utility lineups. By showing the destination of where a grenade will land before being thrown, you can enhance your utility and smoke grenade knowledge with this tool.

Automatic Finder is an easy to use tool which will automatically find a grenade lineup for you by giving it a starting or ending point. Use this to create new lineups for smokes which have not been done before!

Must Know Utility: By selecting a specific grenade on a range of different maps, preloaded are a range of must know grenades you can quickly learn.

Flash tester: Flashes are integral to CS:GO and with this feature you can test your flashes by teleporting to where a flash you've thrown would pop. By typing "!thrown" you can repeat your last thrown flash and see where it pops.

Utility Share: Previously you would have to spectate a friend to learn a grenade lineup, now with Utility Share by utilizing our .copy command, choose the name of a player from a list and copy their last thrown grenade.

Damage Tester is the perfect tool for testing damage done with weapons through walls or grenade damage when thrown with our printout in chat.

Ever struggled with entry fragging into sites? PREFIRE trains your prefiring and entry fragging on common positions and multiple maps.

Co-Op Mode invites another player to join you in playing PREFIRE together, and will enhance the synergy of you and a teammate when entering sites.

Real Time Statistics lets you see how you stack up against the competition in real-time leaderboards. The Top 10 players will be displayed inside the lobby so you can flex your skill!

By putting the bots in the server, we boost your frames per second so that you can practice seamlessly.
With the introduction of ESEA Refrag, the goal of these tools is to elevate your game and knowledge of CS:GO while also making it easy, fun and informative for learning new tricks both alone or with friends and teammates. Those with ESEA Insider access will now be rewarded with these industry leading features and more to come. To get started, just go to your profile and open your Refrag tab or launch the client. Be sure to keep up to date with more great news coming soon on our twitter and website

Here at ESEA, we're always looking for ways to improve the experience for the CSGO community, so if you ever have any suggestions or feedback please feel free to let us know via our website ticket support system.
Good luck, and have fun!