ESEA introduces visibility to Matchmaking Rating, Rank S/G rework, 5v5 Cash Cups, and more!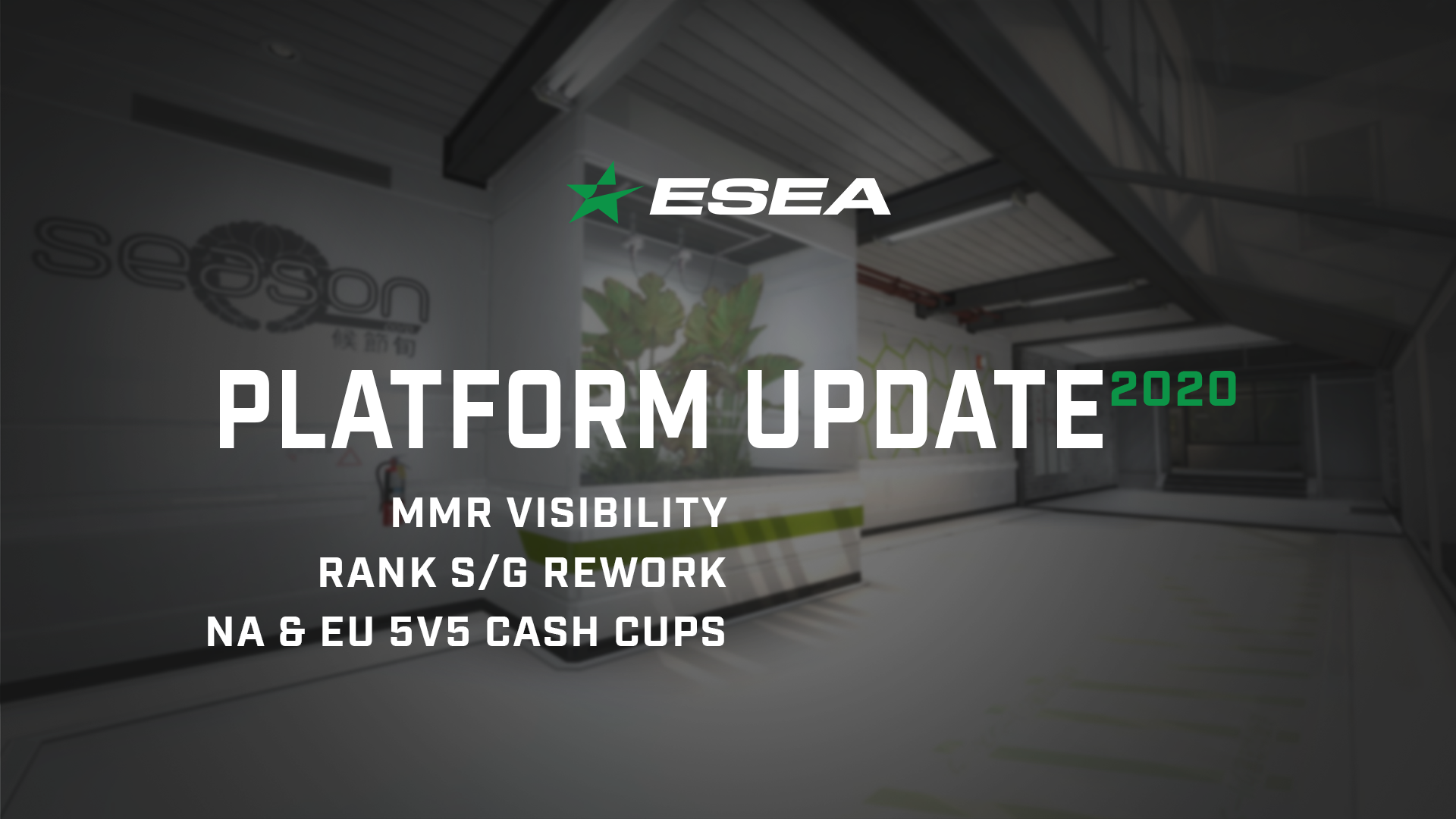 TL;DR
Added visibility to Matchmaking Rating for all ranks, added MMR decay, and a scaling queue stack penalty.
Rank S/G Rework: reworked Rank S/G qualifier process, weekly prize pools for Rank S returns, and redistributed prize allocations to reward teamplay competitions.
Introducing $16,000/month 5v5 Cash Cups for NA & EU ($4,000 prize pools per region twice per month) moving forward!
In a shift of focus to enhance the overall CS:GO experience on ESEA, and reflecting on several recent rounds of community feedback, we are announcing some exciting changes to the platform including visibility to the Matchmaking Rating system, a restructure to our existing prize distribution, and introducing new 5v5 Cash Cups (twice per month) for teams in NA and EU to participate in for their share of $16,000 each month. These changes and additions will now provide teams more consistent and rewarding opportunities ancillary to our league structure that feeds into the ESL Pro League. We wish to continue to support individuals trying to hone their skills with a $3,000 per week (per region) leaderboard for Rank S exclusively. We believe this better aligns with the current competitive landscape of CS:GO.
Since its introduction back in 2015, Rank S has been the pinnacle of the PUG experience here on ESEA, and has been an integral piece to the overall CS:GO ecosystem by providing a path for players to transform their hobby into a genuine income stream, a dream for most! When Rank G was introduced in 2016, it served as a stepping stone to the exclusive Rank S environment which consisted of a combination of an elite mix of puggers, pros from the tier 1 scene (ESL Pro League players), as well as up and coming talent from the tier 2 scene (ESEA-Premier and Mountain Dew League). In 2018, Ranked Leaderboards were added to the platform to add incentives in the form of skins prizes to ranks D → A. In the Spring of 2019, we hosted the ESEA Rank S Combine - an event to promote and build individual player profiles. One of the major goals of this event was to recognize up and coming Rank S and G players, while also creating a platform for them to showcase their talent and potentially receive new opportunities. These players leveraged this platform to help catapult themselves to new heights, and we couldn't be more proud of their endeavors.
Today, we are proud to announce the following details of each major change in their respective sections below:
Introducing transparency on Matchmaking Rating: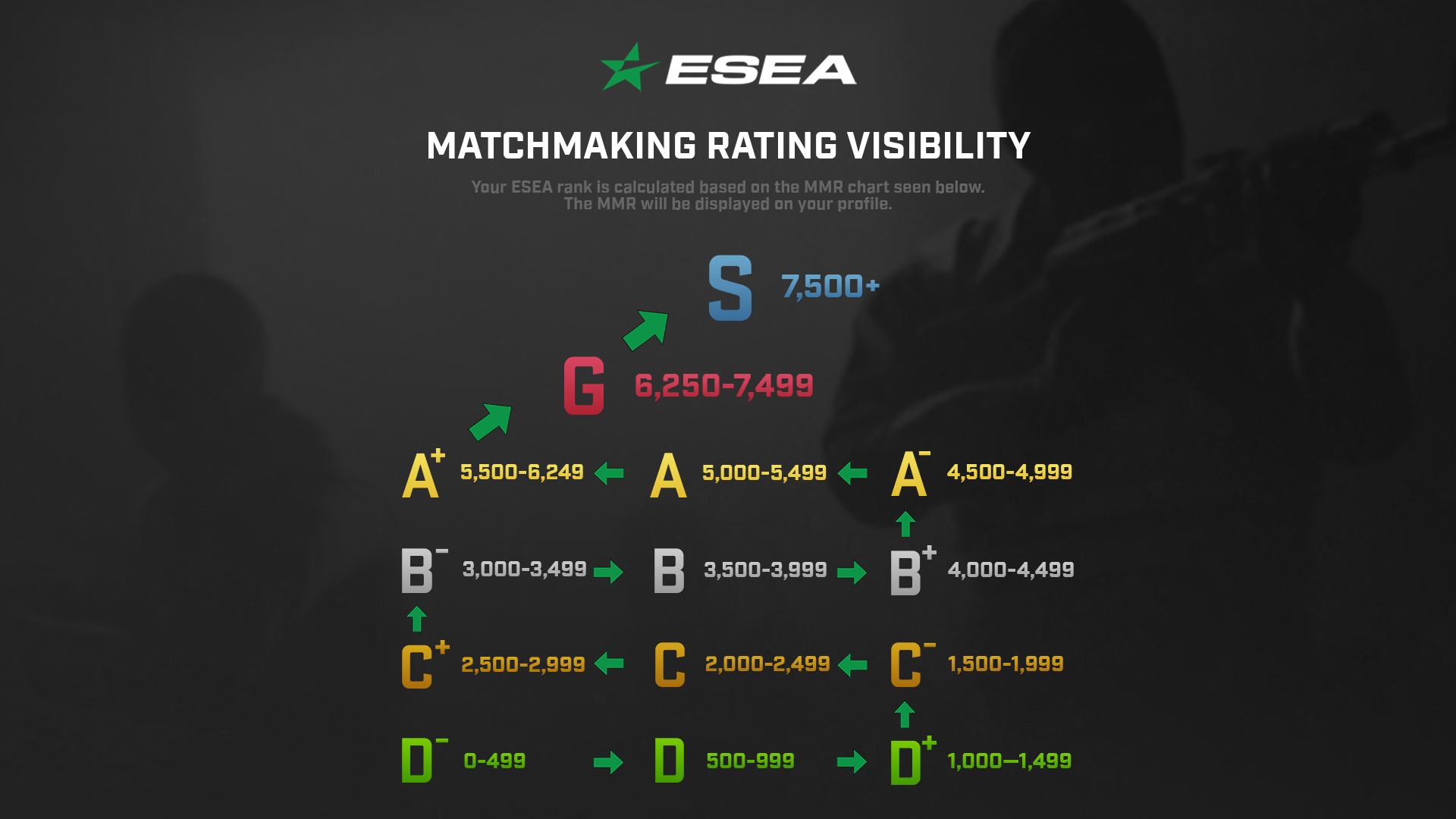 To more accurately represent a player's skill we are improving our ranking system to display a Matchmaking Rating value, and improving the balance of the games. For example if you are Rank B you will see a numeric value between 3,500-3,999 on your profile. This value represents your MMR and shows how close you are to ranking up or down. Since previously, Rank G and S players did not have a set MMR associated with their vanity ranks before this update, all current Rank G Players will have their MMR set to a clean slate of 7,000 and Rank S players will have their MMR set to 8,250. All players will stand to gain more by playing similarly skilled opponents as competitors will be rewarded MMR proportionately based on a number of factors:
As a precaution to avoid players being carried to a high MMR where they do not belong we have reintroduced a penalty for larger group sizes. Players will receive less MMR per win when in a group size of three or larger. The larger the group, the larger the penalty. For example, a late night stack of 5 players with a high MMR average would receive less MMR points per player than their lower ranked opponents, and vice versa - the team with a lower average MMR will have more to gain by winning against their opponents with higher MMR.
Additionally, players can no longer queue with others outside of 5 ranks (including ranks with + & -) of their own. Meaning a Rank B player can only play with the players of the following rank: G, A+, A, A-, B+, B, B-, C+, C, C-, D+.

Similarly we have added a new decay mechanic to more accurately place players who are inactive for a significant period. Your MMR will never decay outside of your rank, but it will bring you all the way to the bottom of the MMR below your current rank. For example, a Rank A+ (at 5,500 MMR for example) player can only decay down to A (at 5,000 MMR) over the course of a 35 day period. So don't worry if you need to take a break or go on vacation, but we want to get long-term inactive players at their realistic position in the MMR ecosystem after they haven't played CS:GO in a while.

Your Matchmaking Rating would decay at this rate:

7 days inactivity: -2.5% MMR
14 days inactivity: -7.5% MMR
21 days inactivity: -15% MMR
28 days inactivity: -25% MMR
35 days inactivity: -50% MMR
However, your MMR will not fall below the base of the rank below your current rank. For example an A+ will not decay below A | A to A- | B+ to B | B to B- | B- to C+ | etc..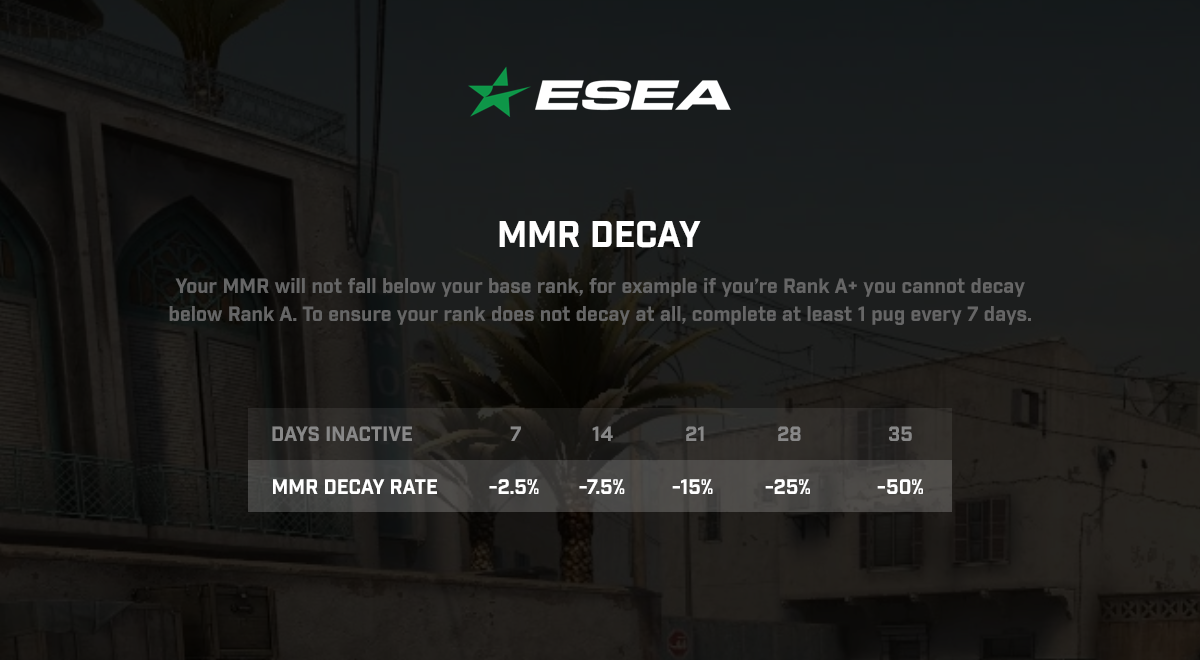 Rank S/G rework and qualifier removal:

Moving forward, Rank S and Rank G will no longer have their own exclusive 10man queue environments on specific days of the week for each region, and instead will be consolidated into the overarching PUG ecosystem. Additionally, we are restructuring our existing prize distribution to continue rewarding the top players through our Rank S program and discontinuing the prizing for Rank G and below. This shift also allows the transparent MMR system that is outlined in the section described above to solve the previous issues in climbing to Rank S after achieving Rank A+ through the previous qualifier process. By eliminating our previous barriers of qualifying for Rank S/G, we want our system to be open and purely based on merit.
All players can now rank up to Rank S and G by achieving the appropriate MMR without needing to conform to a grueling qualification process within a set time frame. Players can now maintain their position through their own results and not be impacted by the judgement of cliques within Rank S/G, player councils, or staff judgement on the matter. The results of active competitors and top performers will speak for themselves.
Every week the Top 10 Rank S players in Europe and North America will earn their share of $3,000 per region:
At the time of this update, current Rank S players will have their free Insider subscription extended for another year and a new criteria will be put into place in the coming months - likely tied to the MDL and/or ESL Pro League.
Our goal is to continue providing teams as well as individuals with all the tools necessary, such as Refrag, to get the most out of their time and experience playing CS:GO here on ESEA. Through the ESEA League, teams can play against similarly skilled opponents and climb their way up the divisions all the way to the Mountain Dew League, and ultimately the ESL Pro League. However, there is a key component missing to ensure a team's success and that is more opportunities for teams to earn consistent prize money, and the ability to compete against higher tier opposition.

Moving forward, we have allocated some the funds from our previous prize distribution in the form of introducing:
5v5 Cash Cups twice per month for NA & EU:
Twice per month we will hold 5v5 Cash Cups in both Europe and North America that will take place over the course of a weekend. These competitions will be open to all ESEA Premium and Insider players, where individuals can gather up and participate in structured teamplay CS:GO, and gain valuable experience against skilled opposition. These Cash Cups do not have a separate fee, so this can serve as the perfect training ground to trial players from the recruitment center.

To support aspiring broadcasters, the Cash Cups will feature open GOTV's throughout to ensure community streamers will have ample opportunity to hone their craft while covering exciting games. Each cup will be best-of-one until two teams remain on Saturday. From there the top two teams from the Saturday bracket will face off against two invited teams on Sunday in a best-of-three bracket. The champions will receive $3,000 and the runner-up will receive $1,000.
The first Summer Cash Cup will start August 15th and the second will start August 22nd. More information on set dates for the Autumn Cash Cups, Winter Cash Cups, Spring Cash Cups, and so on will be announced in the near future. Moving forward, we will be hosting two 5v5 Cash Cups per month (or at the very least six 5v5 Cash Cups per season) to avoid schedule conflicts with other events and player breaks.
Signup for the Summer Cash Cups:
Autumn Cash Cup dates: TBD
The way the ESEA community experiences CS:GO on our platform across the board is our number one priority. If you ever have any suggestions or feedback, please feel free to let us know via our website ticket support system, regularly distributed community surveys, ESEA forums, and as always, please do not hesitate to reach out to me directly via Twitter or Discord.
Cheers, good luck and have fun!
-Michael "MaestrO" Bulostin