Introducing Warm Up Mode - DM while you queue
Whether it's honing that all important muscle memory, breaking in a new sensitivity or piece of equipment, or practicing quick flicks, deathmatching is one of the traditional methods of warming up for pugs for many players. The ESEA team is pleased to announce an experimental new quality of life improvement for our PUG experience called Warm Up. Starting today the ESEA Client will now display an option to "warm up" featured in the lobby, which will send the player to an ESEA deathmatch server, either before queuing or while in queue. Once a PUG is found the player will be automatically transferred from the deathmatch server into the PUG server. Our goal is to provide a streamlined experience for players wishing to get their deathmatch on without having to worry about changing servers or re-launching CS:GO, and encourage players who might not otherwise deathmatch to give it a try. This initial launch of Warm Up has the following features:
The ability to jump directly into a deathmatch server from the lobby/queue section of the ESEA Client
The ability to toggle an "Auto-Warm Up" selection which enables users to automatically join a deathmatch server when looking for a PUG
Deathmatch with friends in your lobby as a group
Updated Spawn and Deathmatch settings including fixed spawns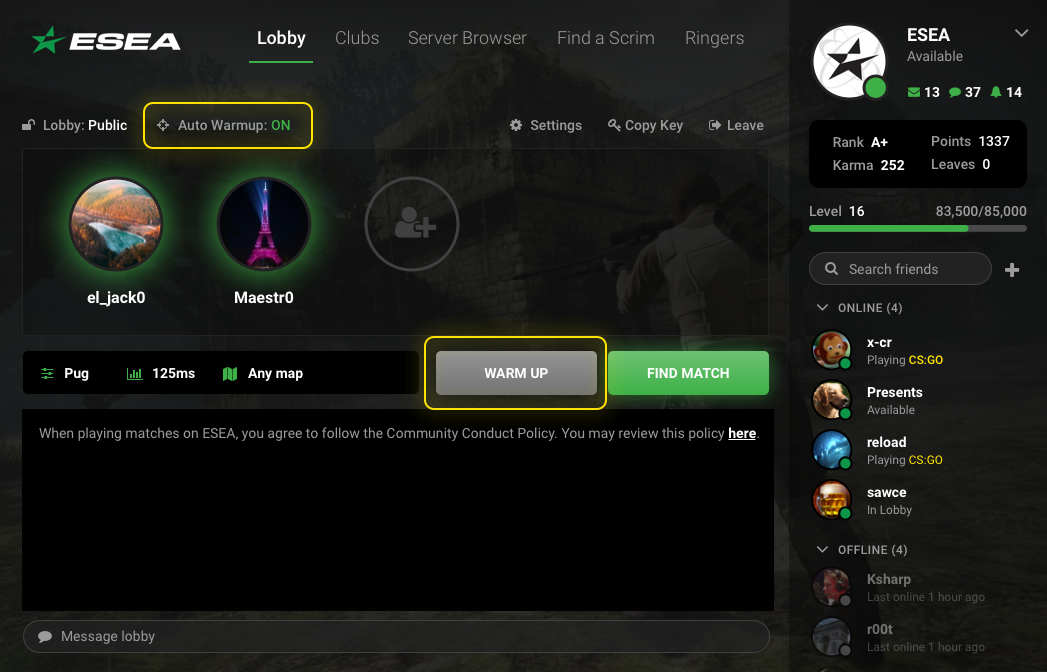 The Warm Up feature is currently being introduced on a trial basis as we collect feedback from the community. As such, this initial launch will only feature Dust2 in terms of map selection, however additional maps are a possibility in the future based on your comments and experience. If this proves to be a popular addition, Warm Up could potentially expand to include items such as different modes, statistics integration, and leaderboards and prizes! For now, we hope you enjoy this new addition to the ESEA Client and the PUG experience, and we look forward to hearing your feedback. Happy fragging!
-          ESEA Team