.Clip of the Week Relaunch and VAC Ban Update
Launched in 2005, Clip of the Week has been one of the longest running features in ESEA history. With the creation of the new ESEA Clip feature, we're ready to bring the system back to life. We've worked to completely re-create the COTW system, built around the ESEA Clips you create in-game.
Each week users from all regions may submit one .Clip to be rated by the community. The ESEA clips with the highest ratings win prizes as well as 10 random winners per week. The .Clip you submit must be created within two weeks of the submitting week.
The COTW competition will reset weekly on Sunday at 00:00 UTC.
The following prizes will be awarded each week:
1st: 750 ESEA Points
2nd: 650 ESEA Points
3rd: 550 ESEA Points
4th: 450 ESEA Points
5th: 350 ESEA Points
6th: 300 ESEA Points
7th: 250 ESEA Points
8th: 200 ESEA Points
9th: 150 ESEA Points
10th: 100 ESEA Points
10 Randomly selected ESEA users who rate a COTW will win 50 ESEA Points
Submit your .Clip of the Week!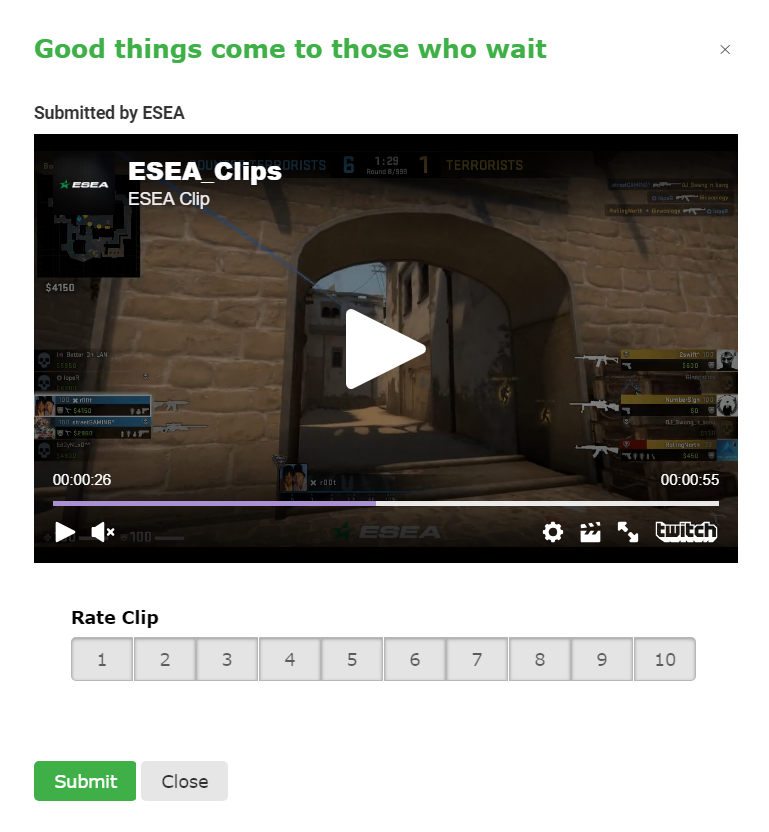 Previously the COTW system was separated by regions; however, the new system combines all regions into one. All ESEA Insiders receive 3 free ESEA Clips per week, and all ESEA Premium subscribers receive 1 free ESEA Clip per month. Additional clips can be purchased from the ESEA Points Store for 5 clips / 50 points.
This update also removed the Demos and Movies section of the former ESEA Downloads section. While this section has been removed due to lack of use, we understand that ESEA has one of the oldest databases of Movies, and we have no plans to delete the files that were previously available for download. Instead, our team is looking at different ways to make them available.
VAC Ban Update
Previously our stance has been that if your account had any VAC ban issued on it, you would not be eligible to add your Steam ID to your ESEA account. With newer information available to us, ESEA is now able to verify if the VAC Ban is specifically for CS:GO or TF2, and will no longer mark accounts with VAC Bans on other games as ineligible to register on ESEA.