Welcome to the redesigned ESEA Client
At the start of October, we launched the ESEA Client beta for Insider users.
We set out to redevelop the Client UX from the ground up while being able to provide the same great anti-cheat, giving you the most secure CS:GO matches possible. Today we officially launch the new ESEA Client out of beta and it is now available to all ESEA subscribers.
The new ESEA Client user experience allows us to expand on what we're able to offer through the client while maintaining a similar feel to the old design. One of the biggest additions to the ESEA Client is the launch of themes. In the beta you saw the new ESEA Client Dark theme, but we're also shipping the newest update with an ESEA Client Light theme. More themes can be earned by progressing through the ESEA Rank system, unlocking new designs as you rank up. Unique themes are available for Rank B, Rank A, Rank G and Rank S.
To find out more about the newly redesigned ESEA Client, head on over to the new landing page: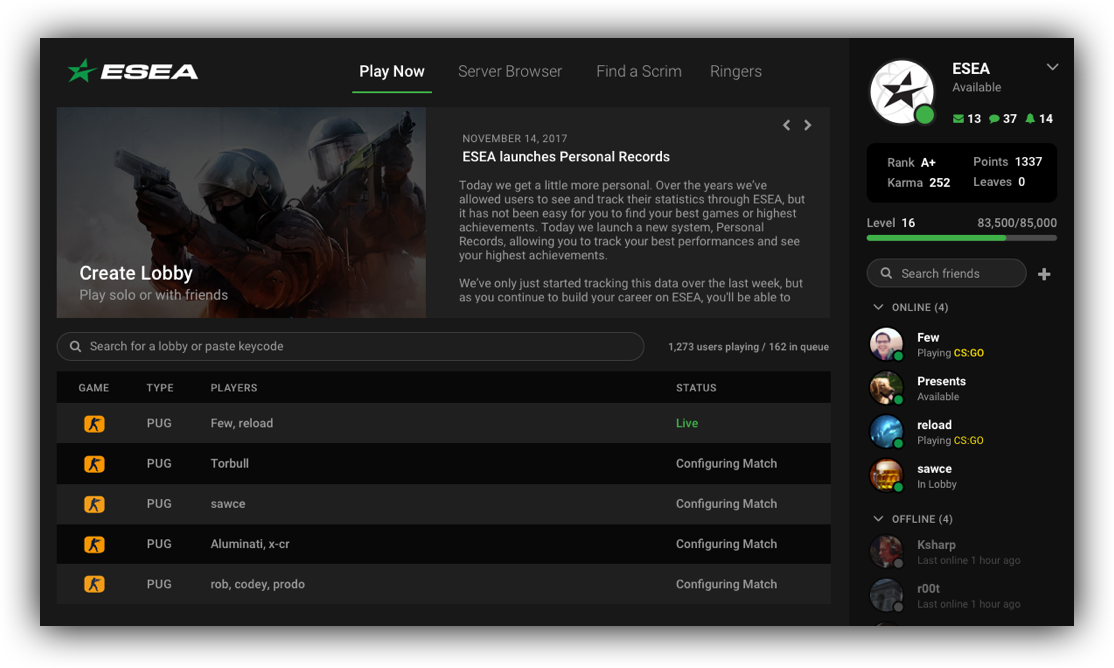 I want to give special thanks to all of the ESEA Insider users who were part of the beta test over the last month. You were instrumental in discovering and fixing bugs that made it possible to launch the full release so soon. A huge shoutout to both reload and Presents who led the redesign process, and to the entire product and development team who assisted with the project.
We will be monitoring closely for any additional bugs that may pop up, and work to squash them over the next several days. If you were part of the beta, please re-download the installer and overwrite your existing install. If you were not, simply restart your ESEA Client or head on over to the landing page to download the newest version. Happy fragging!