10-year Anniversary Holiday Sale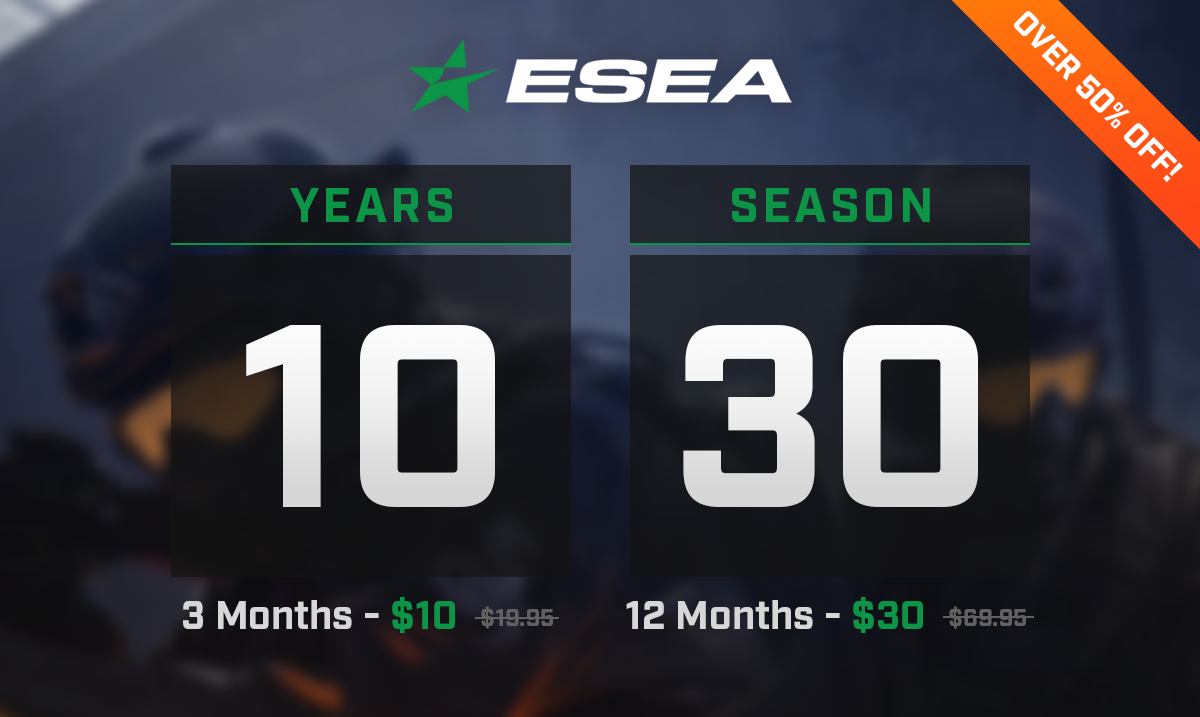 Happy Holidays and Season's Greetings! Speaking of Seasons, the upcoming ESEA League Season will be the 30th run by ESEA, spanning 10 years of competition. We wanted to take a moment to recognize all the past and present players who helped create an amazing community over the years and memorable moments season after season. ESEA has grown into the premier platform for competitiveness and it would not have been possible without the dedication and commitment of the players over the last 10 years.
Let's take a look back at some of the major milestones from the past 30 seasons:
ESEA Season 1 launched the CS 1.6 Open Division on November 24th, 2008 with 54 teams.
ESEA Season 2 added divisions for CS 1.6 and launched the CS:S and TF2 Open divisions on February 2nd, 2009.
Evil Geniuses wins the first CS 1.6 ESEA Invite LAN in Dallas, TX on July 27th, 2009.
ESEA Season 3 added European Divisions for CS:S
X30 Gaming wins the first CS:S ESEA Invite LAN in Dallas, TX on November 8th, 2009.
compLexity Gaming wins the first TF2 ESEA LAN in Dallas, TX on March 14th, 2010.
ESEA adds the first CS:GO Open Division in Season 11 on March 27th, 2012.
Ninjas in Pyjamas wins the first CS:GO and first International ESEA LAN in Dallas, TX on April 21, 2013
ESL and ESEA launch $1,000,000 Professional division on April 28th, 2015.
Mortal Kombat wins the first ESEA Global Challenge LAN at Katowice Poland on August 28th, 2016
To celebrate all this great history, we are going to be having a massive holiday sale on ESEA Premium and ESEA Insider, running through January 17th, 2019. To celebrate 10 years and 30 seasons of ESEA League, we will be selling multi-month subscriptions at the following prices when checking out using Xsolla:
ESEA Premium:
3 Months - $10.00 USD (reg price: $19.95)
12 Months - $30.00 USD (reg price: $69.95)
ESEA Insider:
3 Months - $20.00 USD (reg price: $42.95)
12 Months - $60.00 USD (reg price: $149.95)
Keep in mind that once your subscription expires, you will resubscribe at the standard rate. This promotion is for new subscriptions, and you will not be able to upgrade your plan to the above pricing if you are currently subscribed. If you're currently on a subscription plan that is longer than the term of this sale, please make a support ticket, and we will be happy to help you out!