Tag Up! We just launched ESEA Clubs
To help foster an organized community around 10-mans, today we are introducing you to our newest project, ESEA Clubs.
Clubs have long been a staple in Counter-Strike, and today we're helping organize them into a competitive environment and creating a social element to be shared throughout ESEA.
Clubs TL;DR
Club Wars - A unique way for two clubs to battle it out head to head!
Queue Times - Limit the availability of your Club queue to maximize your member's schedules!
Twitch Integration - Connect your Twitch account to unlock benefits of clubs, including free membership!
Custom Client Skins - All verified Clubs unlock a custom client skin for use!
In-game Tag - Tag up as a member of your favorite verified club to brag about your membership and earn points towards your club standings!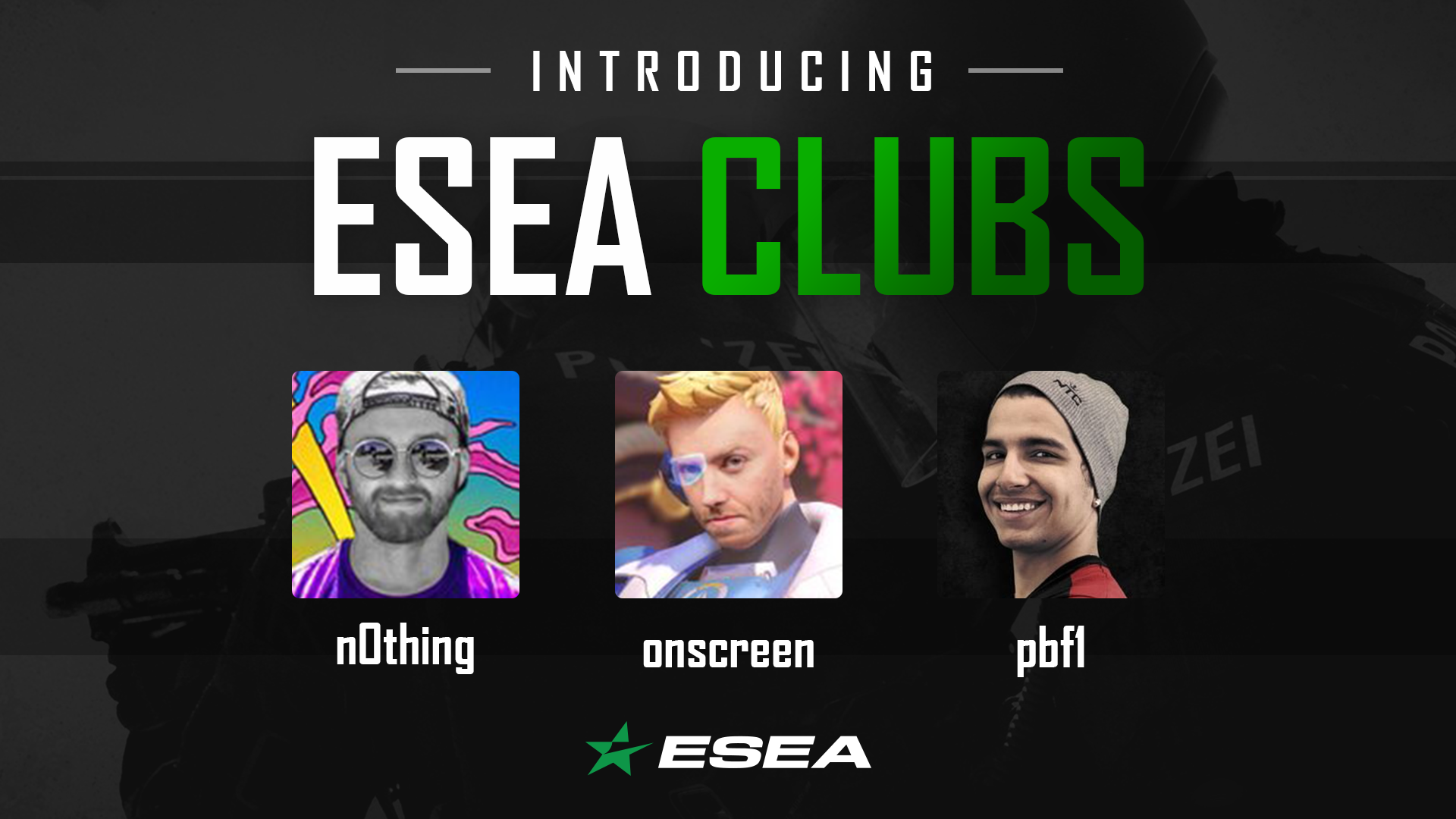 ESEA Clubs, similar to Rank S and Rank G queues, will be organized 10-man groups that allow you to choose the people you wish to play alongside. Clubs can be as small as ten people or as large as 100,000. There will be two different types of clubs: verified and free. Verified Clubs will require a monthly subscription payment of ESEA Points, and free Clubs will not have any charges associated to them.
For launch, we've partnered with players from around the world who will lead the way with the first verified clubs. The first verified clubs will be owned by:
All Clubs at the start will be available to be joined by anyone across the globe, though you will only be able to play players from your region. It's important to note that ESEA Clubs will not replace the current matchmaking and PUG system.
Club Wars
Club Wars is a unique way for two clubs to battle it out on the server to find out which Club reigns supreme! Owners of Clubs will be able to wage a War against another Club for a set period. Members of the Club can queue into the War, where they will be placed on a team with their clubmates to face off against the other Club. The winners walk away with pride, and potential prizes.
Queue Times
When and where? Depending on the settings of the Club you join, you may only be able to queue during certain times. Each Club owner can allow queues to be 24/7, or limited to certain hours of the day. Have a group of buddies that only play on the weekends? No problem, your Club can allow queues only on Saturday from 2:00 PM until 11:00 PM with a few button clicks.
Twitch and ESEA Clubs
Our last update included an updated way for you to connect your Twitch account to ESEA, paving the way for new product features. ESEA Clubs will be the first product feature to use the new Twitch integration. Those who subscribe to the owner of their favorite verified club will be eligible to join that Club for free if the Club owner allows it. You must maintain your Twitch subscription to the club owner to secure your spot in the Club if this feature is enabled.
Verified Clubs
Verified Clubs don't just offer a way for you to play with other people and support the Club owner. All verified Clubs will have features both inside and outside of the game. At launch, each Verified Club will have a Club tag and ESEA Client skin. The Club tag will be visible in all ESEA PUGs, if enabled, and will not be able to be replicated merely by someone changing their ESEA alias.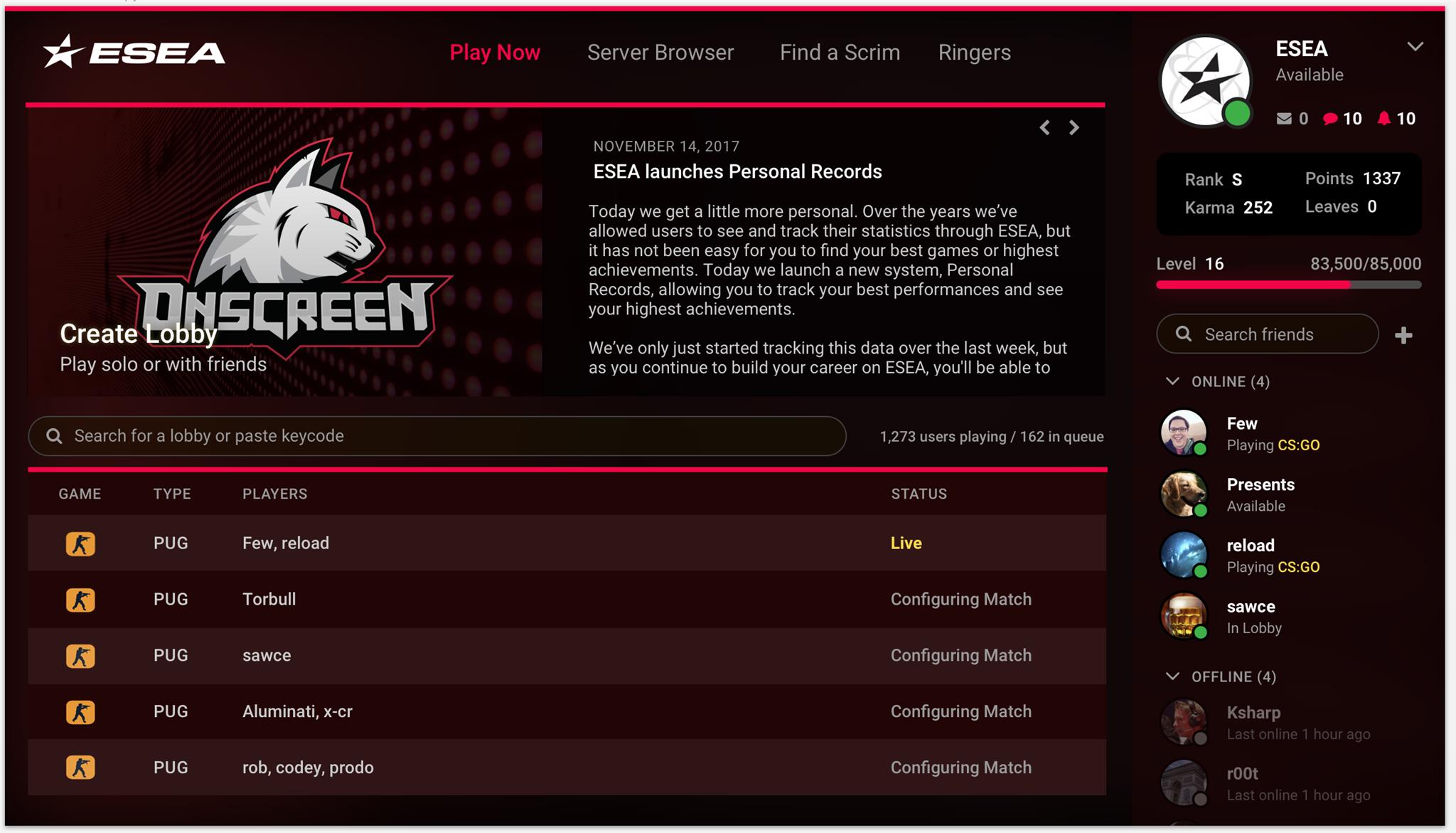 Free Clubs, based on performance, could be invited to become a verified Club on ESEA. More details will be released in the future.
Free Clubs
Verified Clubs are a great way to support your Club and the Club owner. However, free Clubs are essential, and we don't want to neglect them. There are many organized groups of players across the globe, and we want to make it easier for you to play. Groups designed for local LANs, often want to play amongst themselves before or after one of their events. With free Clubs, it's possible for them to do that.
Free Clubs will be created via an application process at this time but will be available to the public in the future. To apply, send an e-mail to clubs@esea.net and follow these instructions. We will work hard to help organize these free Clubs to allow users to have other options to play in, outside of the ESEA League and ESEA PUG system.
FAQ
There are a ton of features packed into one product release, and we're going to break it all down below:
What is an ESEA Club?
How will people know what Club I support?
What settings can Clubs have?
How do I join a Club?
How much does it cost to join a Club?
Can I create a Club?
What is an ESEA Club?
An ESEA Club is a group of friends, competitors or fans who have come together to play organized 10-man games on ESEA. How your ESEA Club will work is up to the owner of the Club. Each game in the ESEA Club will earn or deduct points from your standing within the group. The top placing players from each period will be eligible for prizes, if available in the Club.
How will people know what Club I support?
When you're in a Club, the Club information will show up on your ESEA Profile. Furthermore, you'll be able to earn points in regular ESEA PUGs (if your Club allows it) by wearing the Club tag. The tag, which will be unique to all Club members, will not be able to be replicated in an ESEA alias.
What settings can Clubs have?
Clubs have a host of customizable features available for the Club owner to choose from. While many Clubs will be similar in format, small differences will differentiate which Clubs you decide to join. Game settings, point values, and prizes could be different based on what the Club owner has chosen.
Game Settings: Captain mode or Random team picks
Point Values: The Club owner can decide how many points are earned on a win or loss from 0-10. Club owners can also allow club members to earn points by playing ESEA matchmaking. Those points will count towards the Club standings.
Prizes: Each Club has the option to add prizing at the Club owners discretion. The Club owner is responsible for all promised prizing.
How do I join a Club?
Joining a Club is a few button clicks away. Verified and free clubs have the same joining process through the ESEA website. To join a Club, head on over to the club listing page and find the Club you wish to join. From there, click on the Club you want to join and select "Join Club" at the top right.
There are multiple settings that Club owners can choose for their Clubs. They include:
Public: Anyone can join.
Protected: Members can invite another user to join.
Private: Only Club managers and owners can invite other users to join.
How much does it cost to join a Club?
There are two levels of Clubs: verified and free.
Verified Clubs will cost a minimum of 150 ESEA Points and a maximum of 500 points per month. If enabled by the Club owner, users who subscribe to the owner of a verified club on Twitch can also earn free entry into the Club. Users will be limited to one verified Club at launch.
Free Clubs will not have any cost to join. You will be limited to joining three free Clubs at one time.
How can I create a Club?
At this time you cannot create a Club. However, we are accepting applications for groups who want to make Clubs! To submit an application for a Club, please email clubs@esea.net with the following information:
Link to requested Club Owner ESEA Account:
Link to Club moderators ESEA Accounts:
Requested Club Name:
Requested Club Tag:
Requested Club Description:
Why do you wish to create a Club?
What is your long-term goal for your Club?
How many expected members?
What location will your Club be based in?
Existing social media links: